While visiting our historic town on your Shepherdstown Mystery Walks visit, be sure to stay at a truly historic Inn to complete your visit.
Thomas Shepherd Inn
The Thomas Shepherd Inn was built in 1868. The building served as St. Peter's Lutheran Church parsonage for nearly 70 years. In 1936 husband and wife, Drs. Halvard Wanger and Sarah Elizabeth McFetridge purchased it for their home. Halvard and Sarah added the Duke Street addition for use as their doctors' offices. A plaque with their names on the exterior of the building on Duke Street, and Dr. McFetridge's wooden plaque in the guest-room floor hallway, serve as reminders of their time here. Unfortunately, we have not been able to locate Dr. Wanger's infamous "beige hat", which we have read about in several narratives about the Inn.
Thomas Shepherd Inn was established in 1984 by residents, Ed and Carol Ringoot, and has served the historic district of Shepherdstown with hospitable accommodations. When the Ringoots set out to name the Inn, they went to descendants of Thomas Shepherd, Shepherdstown's original founder, to obtain their blessing to name the Inn after him.
"Take me home, country roads" led the Thomas Shepherd Inn's new owners from their idyllic retired lifestyle on Anna Maria Island, Florida, to Shepherdstown, West Virginia. New owners, Dr. Melissa Anderson, a former Lt. Commander in the US Navy, and Joe Muscatello, a West Virginia native and WVU graduate, have visited Shepherdstown numerous times in the past few years and fell in love with its historic past and its progressive attitude to the future.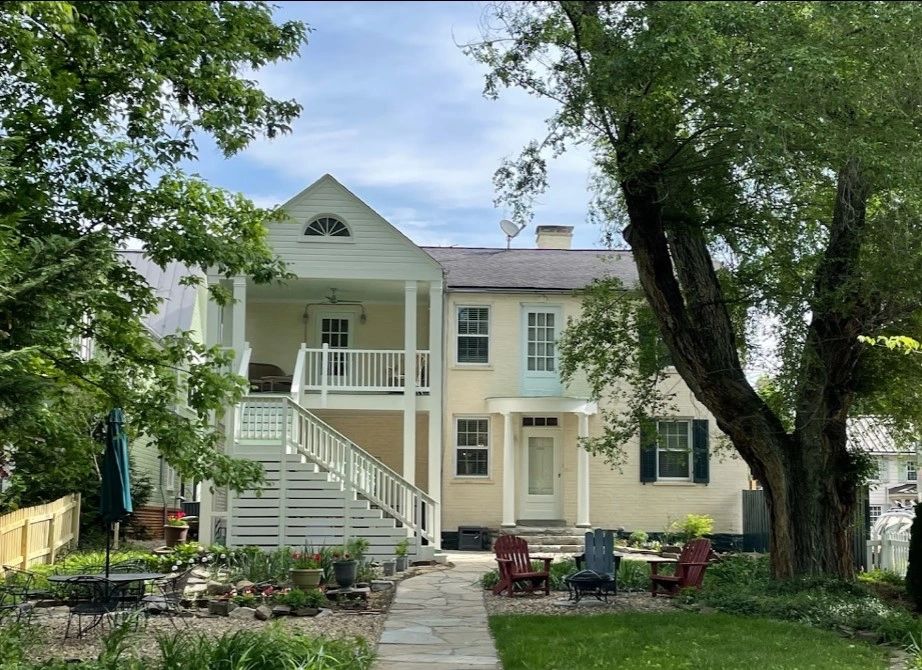 The Inn at Antietem
Sitting atop the famed Cemetery Hill in historic Sharpsburg, Maryland (only an easy 4 miles from Shepherdstown), the absolutely gorgeous Inn at Antietam is the place to stay while on your historic battlefield tour!
The Inn at Antietam, located adjacent to the Antietam National Cemetery is surrounded by the Antietam National Battlefield. The most gracious hosts, Miriam and Will Cunningham, strive to provide you with the best experience for your stay as you tour Civil War country; cycle the C&O canal; experience Harper's Ferry; pop over to Shepherdstown, WV, Gettysburg, PA or Frederick, MD; plus visiting the area for arts, antiquing, hiking, ghost tour and culture. Stay in one of the Inn's five suites with private bathrooms and wake up to fresh, homemade breakfast with as many locally-sourced ingredients. Each of The Inn's five guest rooms is uniquely designed and has its own wonderful features. Whether your idea of vacation is perusing one of the many history books in The Inn's library or chatting about the Civil War over a cup of tea, you'll feel right at home at The Inn. The best part: your pup is welcome at the Inn.
Uniquely located among three famed cemeteries on the grounds of one of our country's most important battles, 'visitors' pass through the Inn's grounds on a regular basis. Maybe you will catch a glimpse of one during your stay.
SunDogs Bed and Breakfast Country Retreat
Sundogs Bed and Breakfast is an experience like no other – an animal-friendly, eco-friendly, country retreat situated on 46 secluded acres. From Goats on Broadway to Rockymarsh Run, SunDogs is an unbelievable find if you're looking to escape and unwind away from your daily grind. This peaceful destination awaits you, in the beautiful Potomac River Valley in the Eastern Panhandle of West Virginia, just 4 miles north of Historic Shepherdstown. Sundogs offers 5 luxurious sun-filled, dog friendly rooms each with a private bath – including several with freestanding pedestal tubs – with heated floors.
Your gourmet vegetarian breakfast is made using local ingredients whenever possible. Breakfast is served each morning in our bright dining room which opens onto a lovely porch and patio perfect for al fresco dining when weather permits. Wide open spaces with trails through sunny meadows, cool shady forests and a cascading stream invite you to explore and enjoy morning hikes with your two legged and four legged friends. Sundogs is perfectly situated for participating in many of the local activities including Potomac River rafting, Shepherdstown University events or shopping and sightseeing. In the afternoon our sunny main patio and shady wrap around porch are the perfect places to relax with a glass or wine or iced tea after a fun-filled day.  
Be sure to take advantage of this wonderfully peaceful destination and make your reservations here: https://secure.thinkreservations.com/sundogsbb/reservations?_ga=2.195214124.1811855964.1684670499-366931098.1682134261
Take it from me, you won't be disappointed!!!